Ultimate Blackout: Our Guide to Light Blocking Curtains, Blinds & More
Creating total blackout in a room can be a challenging task and some furnishing solutions may not deliver the level of darkness required. Whether it's the bedroom of a young child or shift worker, who requires sleep during the day, or to reduce light pollution, or even for a home cinema, these situations will each require a different light blocking solution. So where do you start? In this guide we explore the different product types available and see which are the most effective.
Blackout curtains
Full-length curtains with blackout lining are a great choice for effective room darkening. There is a good selection of readymade blackout curtains available in different styles, fabrics and sizes.
Blackout curtains provide a good level of darkness on their own but it's worth noting that light can still enter the room when blackout curtains are hung from a curtain pole or track. Opting for a wrap around curtain rod will eliminate the light bleed down the sides of the curtains.  These types of curtain rods have curved returns at each end, closing the gap between the curtains and the wall. However, some light will still enter above the pole.
Pairing the blackout curtains with a pelmet or valance is a good way of blocking all the light. Bear in mind that this top window treatment may also result in some natural light being lost when you most want it though.
Blackout lining is a laminated polycotton and is quite stiff and heavy. Curtains and blinds that are made using this light-blocking lining don't tend to drape or fold as nicely. Opting for a heavier weight face fabric, which is also darker in colour, is an effective alternative.
Made to measure furnishings have the option of being interlined. This extra layer of lining sandwiched within the curtain not only creates a luxurious look and feel, but also increases the light blocking and thermal properties of the curtains and blinds.
Blackout blinds
The two main window blind types used to block light are blackout roller blinds and blackout Roman blinds. If you are lucky enough to have windows which match the standard blind sizes that's great, but the chances are readymade blinds just aren't going to fit adequately. To ensure maximum light is blocked, the fit needs to be snug. Even with made to measure blackout shades fitted within the window recess, there's still a small amount of light bleed due to the clearance needed for the blind to operate smoothly.
Blackout roller blinds provide a tidy and effective room darkening solution and rise fully to allow maximum daylight in when required. Recess fit roller blinds can also be supplied with a cassette header, fitting exactly within the window recess, which conceals the roller and prevents light entering above the blind. Side guides are also available with these roller blinds, channelling the fabric as it is lowered and raised and blocking maximum light.
Blackout Roman blinds are a popular window furnishing choice. They offer a softer look, with the fabric drawing up in neat folds, and can be used as a standalone window dressing or combined with curtains. There's the option to fit inside or outside the window recess. Unlike the roller blind, the Roman blind does not fully retract, the depth of the folds will dictate how much of the window will be blocked by the blind when fully raised. If maximum daylight is required during the day, consider fitting the blind outside the window recess. A decent overlap either side and above the window will help with light blocking when it's most required.
Readymade blackout Roman blinds are machine sewn and will have perforated stitch holes running horizontally across the blind where each rod pocket is secured. These tiny holes can be quite off putting and highlight uneven stitching when the light penetrates them. Made to measure Roman blinds are mostly handsewn and can be made with black Bolton twill rather than blackout lining, as a result visible stitch holes aren't an issue.
Window shutters
Louvred or plantation shutters have become a widely used alternative to curtains or blinds in more contemporary interiors. As with Venetian blinds, there tends to be light bleed between the slats, therefore these shutters aren't an ideal option when a room needs to be dark.
More traditional solid wood shutters, however, let in far less light. They complement period properties with tall, elegant windows but are also great for smaller cottage windows. Fabric covered shutters are particularly attractive and provide the opportunity to inject some colour and pattern into an interior room scheme. Solid window shutters are perfect for room darkening but still will not achieve 100% blackout.
Perfect fit blinds
These types of blinds really come into their own when used on uPVC windows and doors. Perfect fit blinds clip onto the window frame, fitting perfectly between the glass and beading, providing a sleek and seamless solution, and no need for screws.
Because of this unique design there is very minimal light bleed when paired with a blackout fabric. However, light will enter the room when the window or door is not fully closed. Variations of this type of blind are also available for aluminium window and door frames. 
Window film
Blackout window film is a cheap and effective solution for blocking the light and providing privacy. This option should only be considered as a temporary solution unless the room requires permanent blackout. 
In conclusion to the challenging task of room darkening, there are limited options which create 100% blackout. However, good levels of room darkening can be achieved with a combination of products in order to create a decorative and functional window dressing.
If you would like further assistance with furnishing your window and obtaining the desired level of blackout, please get in touch. Not only do we supply curtain poles and tracks, but we are also able to create a variety of made to measure blinds.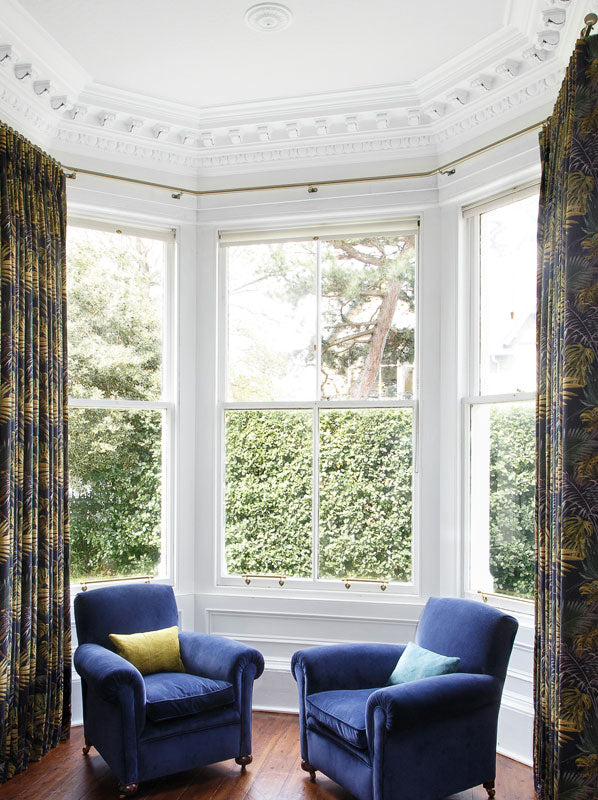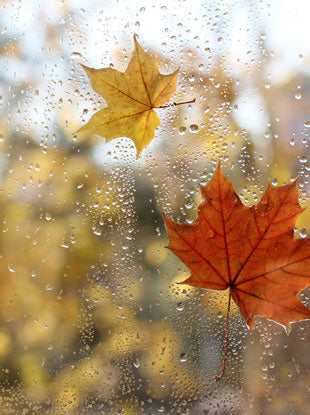 We're sharing our top tips and best rated products to help keep your home cosy now the weather's turned wild and wintery. View our solutions which can make hanging a big cosy door curtain easier an...
Read more