Monday Moodboard - 2nd March 2020
On this sunny Monday, and with glimpses of Spring around us, we thought this interior décor scheme was highly appropriate! 
A light and airy feel, with the focal point being on this printed linen union fabric, the design of which was taken from an original Sam Wilson linocut design - Hedgerow. This fabric lends itself well to curtains, with our white metal curtain pole with cage finials completing the look. 
This scheme retains elements of cosiness with the inclusion of the grey wool herringbone fabric, which can be used for soft furnishings and upholstery, as well as the textured wool flooring. The herringbone wool fabric would look stunning as a Roman blind, coordinating perfectly with the Hedgerow curtains.
Printed fabric
Sam Wilson | Hedgerow Linen - Green (composition 63% Linen, 28% Cotton, 9% Nylon). Inspired by a hedgerow full of blackbirds.  A fresh green with a speckle of grey printed on white linen union cloth.
Herringbone fabric
Abraham Moon | Glen clova - Grey (100% wool) Suitable for curtains, blinds and upholstery.
Curtain pole
Cameron Fuller 19mm White metal curtain pole with Cage finials available to purchase on our website. Available in various pole lengths.
Flooring
Crucial Trading | 100% Wool flooring suitable for heavy domestic use and rugs (not suitable for stairs)
Wall Paint
Little Greene | Wall paint in Mono colour. Available in various finishes
For more interior decor inspiration and our moodboard schemes click here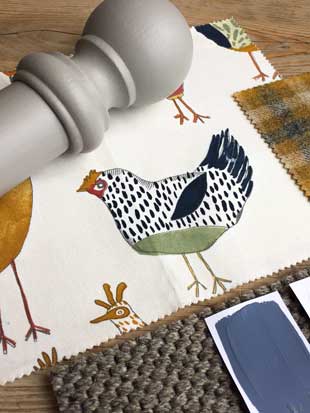 Monday Moodboard -24th February 2020
👩🏻‍🎨Our Monday Moodboard✨A cheery room scheme, perfect for your kitchen or garden room. Achieve this modern country look by mixing check wool fabric with a quirky printed cotton. Add a bit of dram...
Read more
Monday Moodboard - Dreaming of Summer
Often a piece of art can be the perfect source of inspiration if you're starting an interior design scheme from scratch. This scheme is all about the natural elements, featuring printed cottons, an...
Read more